Corporate Yoga Training Mumbai, Free Your Office of Stress
are all-pervasive;
corporates being no exceptions.
Our offices are in fact live spaces
pulsating with cosmic energy, the Prana,
in the form of our employees,
all working towards the common business goals.
Corporate Yoga actually help these goals.
So, the productivity levels of any business set up are directly linked to how harmonious and balanced the cosmic energy pervading these premises is, which in turn depends on how stress free office environment is. Stress in office not only affect the efficiency of the work force but if left un managed stress can even kill.
This is where Yoga can step into our corporates and positively influence the targeted goals. At our Corporate Yoga Training sessions we specialize in customizing yoga practices as per the specific needs of different corporate environments. Yoga in office can actually boost employee wellness from a different angle all together.
Our Corporate Yoga  Mumbai sessions for a  stress free office encompass daily morning yoga classes for the employees, full-day workshops on how to reduce stress at the workplace, yoga diet, and healthy lifestyle changes for a healthy body and a healthy mind, mindfulness through yoga & meditation with a proper stress on the advantages of meditating for the corporates. As per yoga mind is not brain but generated by it.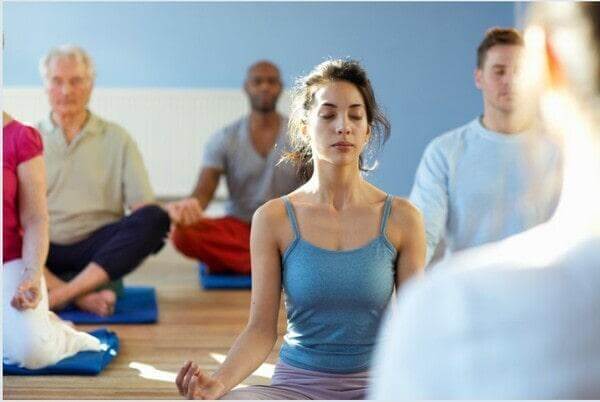 How our Corporate Yoga Training free the office of Stress?
900 Hours Certified trainers – Our trainers are certified for 900 Hours in classical yoga techniques of Patanjali. We have over 15 years of experience in training various corporates on different skills, corporate yoga training classes for stress free Office being one of them.
Armed with extensive experience in applying various stress freeing yoga techniques, our yoga trainers work closely with our clients in order to be able to streamline the structure of the training as per their unique, specific needs.
Apart from our Corporate yoga Mumbai We also conduct our regular group yoga classes in Bandra west, at our yoga studio here. Yoga therapy, life coaching based on yoga concepts, mindfulness with yoga are the other areas we help our clients with.
Corporate Yoga Mumbai Classes- How different are we
We have first-hand knowledge of the operational aspects, as well as cultures of multiple corporates
Our methodology for corporate yoga training is independent of any resource constraints; we can deliver effective yoga for a stress free office within limited resources
Our training is hundred percent experiential in nature
We employ stress relief techniques of various yoga schools of thought for designing our techniques.
Yoga therapy, or how to heal physical ailments by understanding the concept of Mind, and how can yoga help in maintaining a healthy mind-body complex.
Based on experience, we have customized the techniques of classical yoga as per the needs of modern office spaces, environments and the mindsets of the employees: beginning with associated warm-ups & basic yoga for stress relief in corporates we build-up to the final formations in an easy, and graded manner.
Corporate Yoga Training – Stress relieving Techniques
Stress Management at the Workplace with Corporate Yoga Classes
What is stress?
Understanding the Mind from the body, and energy angle.
Stress relieving Yoga asanas & pranayamas.
Relaxation techniques and how to integrate them in your work life.
Yoga concepts for managing day to day stressors.
Factors which contribute to workplace tensions and how to deal with this stress like tested ways of handling anger at work.
Stress-Free Office through Office Yoga
Understanding the desk layout and its stress connection with our Corporate Yoga training
Various body posture types and their role in daily stress levels
Yoga stretches, yoga poses which can be done in the office
Muscles of the body having a direct relation to stress relief and how to use office furniture for stress relief techniques
Basic yoga breathing exercises to relieve stress while at work
Interpersonal relationships in office and stress management with yoga